We're excited to introduce the latest enhancements to our embedded spend analytics tool, Insights. We recently launched operational efficiency dashboards that provide an overview of the performance of an organization's request to purchase order cycle and approval times in Fraxion. These insights enable financial managers to identify process bottlenecks and compare the turnaround time of their average cycles against the benchmarks of the wider user base in the Fraxion community.

Introducing Insights operational efficiency dashboards: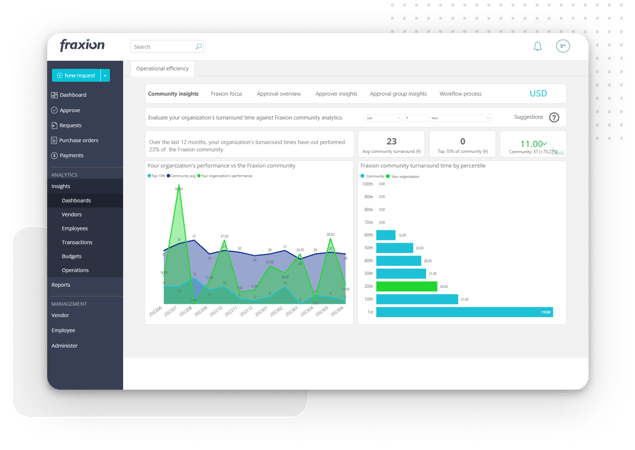 With visibility into processes, managers can measure the overall efficiency of their organization's purchasing cycles, empowering them to make informed decisions to improve internal processes. The dashboard helps managers identify trends, areas of concern and bottlenecks, while providing actionable insights to correct and optimize relevant processes.

The addition of community insights further enhances analysis, providing data to benchmark their organization's performance against. This will help managers understand if their processes are as efficient as other organizations using Fraxion, and how they compare to top performing organizations that are using the software optimally.

The new dashboards include:

● Community insights: Evaluate your request turnaround time against Fraxion community analytics.
● Fraxion focus: Identify opportunities to improve request turnaround times and approval times for improved workflow efficiency.
● Approval overview: Analyze the performance of individual approvers and approval groups in your organization.
● Approval insights: Analyze approver performance by request approval time.
● Approval group insights: Analyze the performance of approval groups by request approval time.
● Workflow insights: Analyze workflow performance from state to state in the entire request to purchase order cycle.

What are the benefits? Clear and easy to understand analytics that transform purchasing data into opportunities. In addition to peer performance insights, the dashboards provide actionable tips to proactively improve the efficiency of the organization's purchasing cycle.

The goal? To inform process optimizations and provide a faster, more efficient way to interrogate historic purchasing data to identify opportunities for improvement that could lead to time and cost savings.

In summary, these are the key benefits:

For finance leaders

● A quick and easy overview of purchasing turnaround and approval times.
● Easily identify process bottlenecks and opportunities for improvement.
● Actionable insights for achieving process optimizations.
● Proactively manage the performance of your purchasing cycle.

For your business

● Benchmark your organization's performance to drive better results and get the most out of your spend management software investment.
● Improves operational efficiency.
● Faster, more efficient processes lead to time and cost savings.
● Better vendor relationships: A faster purchasing cycle can help organizations build stronger relationships with their vendors and qualify for more favorable terms and discounts.

To see how the dashboards complement our spend management suite, request a demo today. We'd like to show you how you can proactively manage your spend, automate, and continually optimize your purchasing process with Fraxion.