Optimize and control each step in the

purchasing

and PO process
When asked about their current purchasing process, the majority of purchasing managers we've worked with have experienced these challenges with the requisition-to-purchase order process:
Manual process delays and inaccuracies

Outdated or re-purposed systems, like SharePoint, Excel worksheets and email, are deployed as a stopgap solution and left in place for too long

Approval bottlenecks

Unauthorized spend

Overspending
Remove manual purchasing processes and outdated systems. A lot of companies are mired in legacy processes and continue to use systems that require more work and make reporting impossible.
Automation streamlines every step of the purchasing process and provides a simplified experience for every user – purchasers, approvers and accounting alike. Purchasing software reduces lost requisitions, potential data entry errors, risk of fraud or overspending and shrinks the requisition-to-purchase order time from a week to mere hours. The improved efficiency helps purchasing departments save 30% or more in the entire purchasing cycle.
Fraxion streamlines and replaces manual steps with best practices to create an efficient purchase requisition approval workflow, eliminating everyday challenges. Our top-rated requisition and purchase order management system ensures that all requests are authorized by means of Fraxion's advanced approval routing engine.
Mitigate risk in the requisition-to-purchase order process and reduce the purchasing cycle:

Streamline your purchasing and PO process
Work remotely, submit purchase requests with ease, from any location. Quickly and easily generate POs as soon as requests are approved.

Do more in less time
Mobility and efficiency boosts will save time that can be used to drive productivity in other important areas. Submit orders individually or consolidate numerous orders to the same supplier.

Fast-track processes
Submit, approve or reject requests on-the-go. Upload relevant documents to validate purchases. Email notifications alert you when action is required.

Purchase at the lowest price
Enable quoting polices that enforce purchasing at the lowest price.

Enablement
Reduce friction by making it easy for staff to purchase from any location, from approved suppliers while staying within budget.

Gain critical visibility
Quickly identify non-compliance, analyze risk and review budgets before approving requests.

Change spending behavior
Accountability drives responsible spending.

Improve auditability
Purchase orders are key documents in audit trails and provide accurate verification for financial auditing requirements.
Simplify purchasing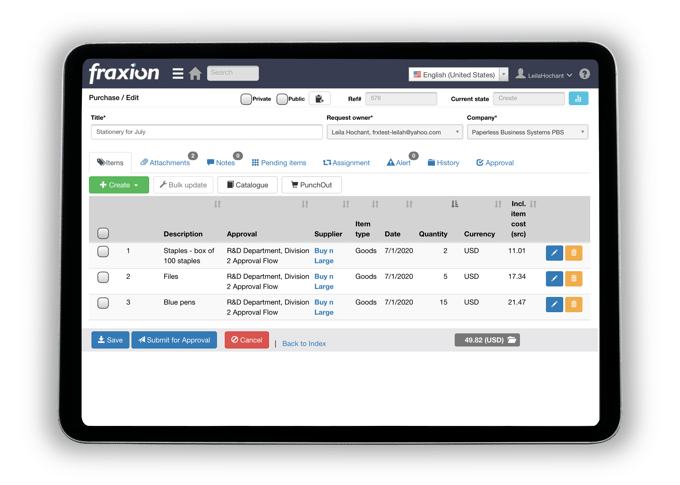 Accountability
"Fraxion allows companies to accurately and efficiently expedite any and all purchases. Companies automate routing and approvals, establish dollar limits, and more. All with a complete visibility and a complete audit trail to record accountability.
"With Fraxion, we just enter the info in the system, even from remote locations. Everything goes through the whole approval process automatically. Most orders only take one to two minutes to complete."
Jason Schneider, Operations Manager at aTyr Pharma