BUDGET CONTROL
Budget insight &
risk analytics
Fraxion leverages data to enable better decision making and accountable spending
Visibility is key to accountable spending
Operating a business with a decentralized workforce can present challenges when it comes to purchasing and expenditure. How do you encourage staff to spend responsibly when they have no visibility of available budget or committed spend? Email or paper-based processes are completely ineffective and fraught with inaccuracies and delays. Enforcing spending policies is near impossible, and out-of-budget purchases or duplicate payments are only uncovered after-the-fact, putting your organization and its profitability at risk.
Mitigate these risks by automating and centralizing processes with predefined policies, enable visibility and mobile access to real-time data and analytics with alerts and notifications for non-compliance.
Fraxion's business intelligence tools provide end-to-end transactional visibility that enables spending without the risk, wherever you are. Fraxion's BI pop-up provides a real-time snapshot into the potential impact of spend with point of decision analytics that empower users to make the right decisions - approvals have never been easier.

Budget insight
Budgets can be viewed at request or approval stage, based on your configuration. Make informed decisions with insight into real-time budgets. Eliminate overspending

Risk analysis
Quantify the level of risk in purchases before approving. Fraxion tracks regular spending patterns and flags potential risk, prompting further verification when irregular patterns occur. Alerts highlight risk, budget contraventions and breach of policy

Active policy management
Configure company policies and approval hierarchies. The alerts engine triggers email-based notifications to an additional contact to ensure the necessary users are aware of a potential risk or compliance issue as it happens. Escalation ensures that spend and approval limits are not exceeded without approval.

Spend analytics
Analyze operational spend at a granular level, drill down to employees, suppliers, departments, budgets and any transactional spending. Track spend to project or cost center budgets for analysis and reporting efficiency. Access detailed audit trails for every request raised in Fraxion
Take the risk out of approvals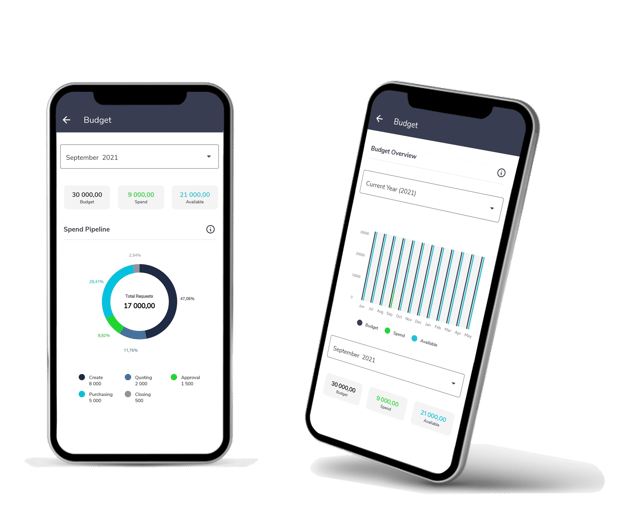 Reduced cycle times and complete visibility
"With Fraxion we've been able to systemize spending in an automated end-to-end process to monitor budgets, cut down on transaction processing time, provide visibility at all stages of approval and ensure that there is an audit trail of all completed activities."
Better spend tracking and approval processes
"Fraxion has streamlined our purchasing and procurement process tremendously. And it definitely has alleviated the need for our buyer to do so much manual work. We have better accountability of tracking approvals."