PURCHASING WORKFLOW
Purchase requisition
approval workflows
Purchasing software with advanced purchase requisition approval workflows
APPROVALS
Approval routing flexibility lets you
tailor your organization's workflow
Ask anyone with a manual purchasing process what the primary bottleneck is and you'll usually hear – the purchase requisition approval workflow. Manual processes are not scalable – the more requisitions you have, the more time you'll devote to managing approval processes. Reduce these manual process challenges by deploying purchasing software:
Lost requisitions
Overdue approvals and backlogs
Out of office approver delays
No visibility into current status
Unauthorized spend
Manual approval processes are usually error-prone, delayed and come with a hefty 30% increase in purchasing cycle time over peers who utilize mobile purchasing software.
Streamline procure-to-pay processes and manage risk with Fraxion's advanced approval workflows that ensure that every request is routed or escalated appropriately and authorized before any costs are incurred.
Let's chat
AUTOMATION
Take the guesswork out of approval workflows with automation.
No more paper-based requisitions, tedious email threads or outdated worksheets. Instead, let the purchasing software route approvals for you. The moment users hit submit, requisitions are routed according to the exception logic configured for your organization based on numerous fields.
LEARN MORE
ACCOUNTABILITY
The best part, you'll have access to a complete audit trail of the entire process.
If any approver along the chain requests documentation, more information, requires a change or rejects a purchase – it's all captured in the audit trail. This gives your organization real-time visibility into your entire organization's spend and a much-needed efficiency boost.
LEARN MORE

Remove approval bottlenecks
Let automated approval routing do the work for you and remove common delays caused by manual systems. Automate simple to multi-level approval workflows.

Advanced routing
Tailor the platform to improve efficiency and utilize Fraxion's advanced routing and escalation that ensures that requisitions are sent to the appropriate approver, based on value, cost centers, projects or spend categories.

Real-time visibility
Fraxion routes your requisitions for approval and captures data at every step, giving you up-to-the-minute reporting, so you can manage spend in real-time. Access budgets and gauge the impact of spend at decision points.

Scalability
Empower staff as your organization grows, without losing financial control. Enable delegation of authority to mitigate risk with multi-level approvals.
Custom multi-level approval workflows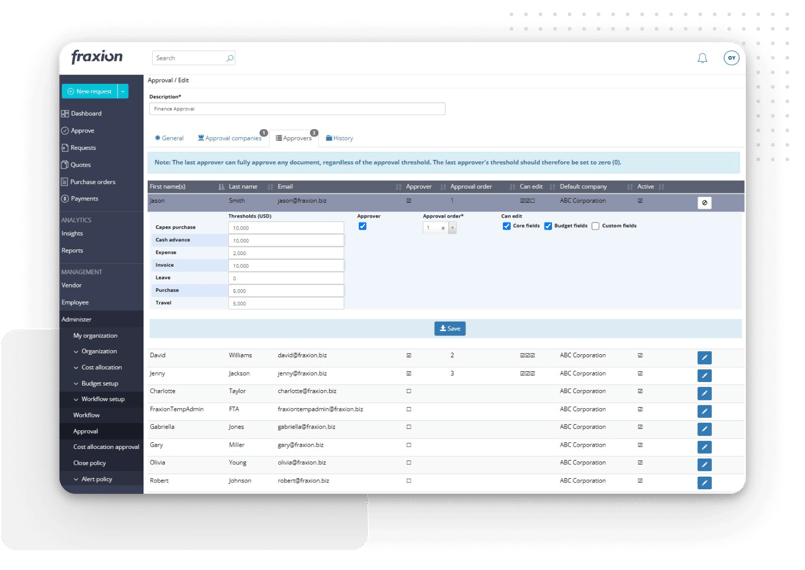 Simplicity & scalability
"Fraxion requires that all operational/club level management follow the same procedure with regards to procurement, which creates uniform workflows, documentation and processes. This eases up the workload in the finance department due to the centralization of all requests and purchase orders. Audit trails, compulsory approval workflows and a vast record of historic procurement documentation allows for missing transactions and other queries related to procurement to be resolved without difficulty. Fraxion also scales well as we are continuously expanding as a company. Ease of use and simplicity of the system enables new users to phase into the workflow effortlessly."