INSIGHTS
Spend smarter and save with
business intelligence and reporting tools
Spend management software with reporting power and embedded Microsoft Power BI analytics
INSIGHTS
Identify saving opportunities
Effective spend management begins with visibility - you can't manage what you can't see. Blindly cutting random costs can impact operational efficiency if you're not reducing the right costs.
By automating your purchasing and expense reporting processes, you gain visibility into historic spending activities that can be analyzed to shape and influence the decisions you make in the future.
Fraxion's business intelligence and reporting tool makes it easy for users, with or without procurement experience, to glean meaningful insights from their business' buying behavior.
With this reporting power you're better equipped to proactively reduce discretionary and non-essential expenditure, eliminate waste, and improve efficiency, compliance, and your saving potential.
To assess where indirect costs need to be reduced, leverage Fraxion's business intelligence and reporting tools to track and analyze:
The goods and services your business is buying
Which suppliers you're buying from
Purchasing frequency
How much you spent during a financial period
How spend data compares to previous years
The value of spend by employee, cost center, or company
User role activity, alerts and what triggered policy red flags
Get the spend visibility you need to make better informed purchasing decisions, align spending processes, and gain the confidence to negotiate the best value for your business.
Let's chat
REPORTING TOOLS
Make informed decisions
Get faster reporting power and increase transparency with reliable, on demand, and exportable data that drives better business decisions. By leveraging business intelligence and reporting tools in Fraxion, you gain access to:

An extensive library of frequently used reports
Customizable views
An efficient data delivery model
Our reports are designed to accommodate quick and easy insights that deliver process visibility and spend intelligence.
LEARN MORE
BUSINESS INTELLIGENCE
Get actionable insights
Fraxion's business intelligence and reporting tool is powered by Microsoft Power BI, making it easy for you to gain deep data insights to make informed decisions and identify:
Where more scrutiny or budget cuts are required
Which suppliers you should be channeling spend to
The status of supplier diversity initiatives
Spending patterns and trends
Saving opportunities
LEARN MORE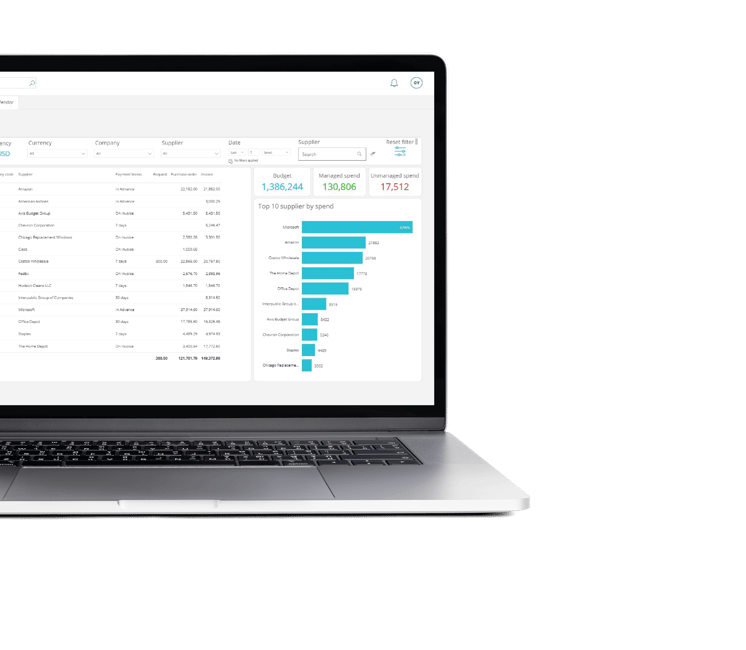 Spend intelligence
"I would definitely recommend Fraxion to anyone who has a very manual, time-consuming procurement system. You'll really appreciate the user friendliness, the quick learning curve and the features. Plus, it's really inexpensive. You'll simplify your workflow and have a history of all your transactions on your system. Companies can analyze spending, identify trends and saving opportunities, and forecast for the future."
Access fast, simple spend reports with business intelligence and reporting tools

Spend by employee
Analyze spend by employee within a specified date range or by the company/ies they are linked to.
See a breakdown of spend by purchase order or request.
Gain clear visibility into employee budgets, actual spend and available funds.
Improve budgeting processes with these actionable insights.

Spend by supplier
Gain clear insight and report on total spend by supplier and payment terms.
See the total spend or purchase order spend by supplier, groups of suppliers, and date ranges.
Track supplier diversity initiatives.
Identify price variations and your top performing suppliers with intuitive charts.

Budget spend
View and analyze budgets by financial period or year.
Gain insights into cost allocations by code and description with granularity around open POs, budget and actual variances.
Visualize budget amounts spent and remaining.
Improve spend predictability and forecasting.

Transactional spend
Gain transactional spending insights for invoices, requests, and purchase orders.
View PO accruals and better understand commitments
Identify your top invoiced items. Gauge and reduce processing costs.
Apply flexible filters to customize your view and export reports on-demand.
Leverage your data and increase your purchasing power
Relying on business intelligence and reporting tools can give your business a competitive edge - report on historic supplier spending and leverage the transactional data to increase your bargaining power.
Rationalize your supplier base
Optimize spend
Channel spend to top-performing suppliers
Improve your negotiating position
Consolidate purchase orders
Qualify for reduced pricing, more favorable payment terms, and volume discounts
See Fraxion's business intelligence and reporting tool in action.