PURCHASE ORDER SOFTWARE
Simplify procurement with Fraxion's

purchase order software
Say goodbye to the endless cycle of manual errors, delayed approvals, and lost opportunities. With Fraxion, you can automate your PO process and reduce purchasing cycle times.
Unlock time and cost savings with purchase order software
Replace time consuming manual purchase order processes with fast, accurate PO automation.
Transform approved and compliant requests into professional, company-branded POs in a matter of seconds.
Manage and analyze purchasing. Track and optimize PO processes and spending with analytics and reporting.
Automate your PO process from approved requests
Create purchase orders in seconds from requests that are approved, budget and policy compliant. These requests can be reviewed and approved using the web or mobile app.
Improve accuracy
Ensure that all purchases are tracked and linked to authorized vendors.
All purchases are subject to budget and policy compliance checks.
Attach supporting documents to verify purchase requests.
Purchase orders can only be generated from approved requests.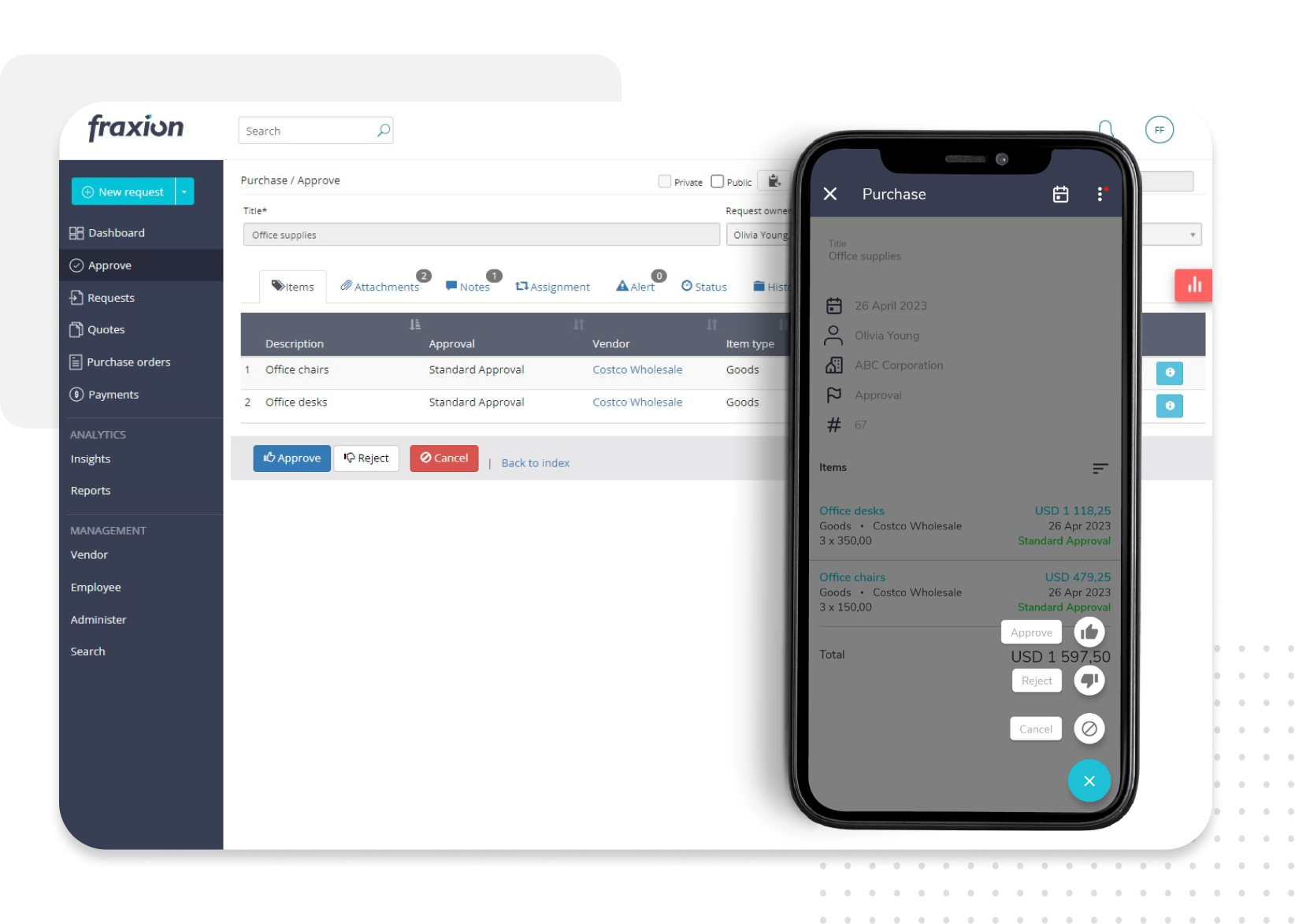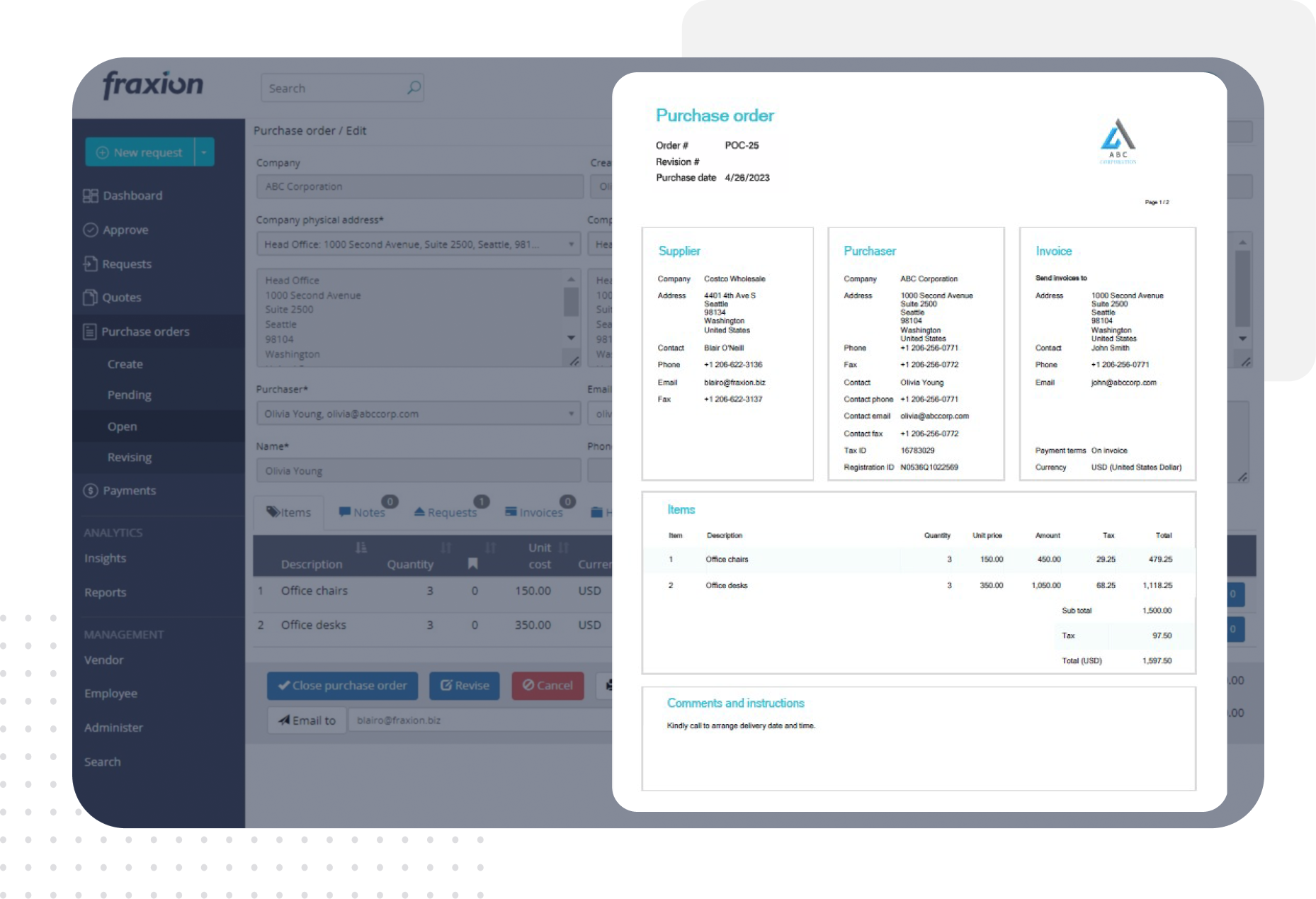 Speed up your PO process
Once approved, the PO process is initiated.
For centralized purchasing, validate and consolidate approved requests and select individual items from a request to add to a purchase order.
For decentralized procurement, set up auto PO creation and auto emailing.
Send professional company branded email templates with a PDF purchase order attached.
Customize your purchase order templates
Fast track PO processes and improve order accuracy
Submit and approve change orders and revisions
Track purchase orders with complete visibility and audit trails
Centralize purchase orders
Rate and review vendor performance
Link purchase orders to invoices for easy matching and receiving in Fraxion
Consolidate purchase orders and save
Analyze and report on transactional spend, open purchase orders, and the efficiency of your purchase order process.
View open orders and consolidate orders by vendor to qualify for volume discounts and saving opportunities

Analyze the number of orders by period, value, and vendor

Assess the efficiency of your PO process and compare it to peer benchmarks using community insights

Gain actionable insights to optimize your purchasing cycle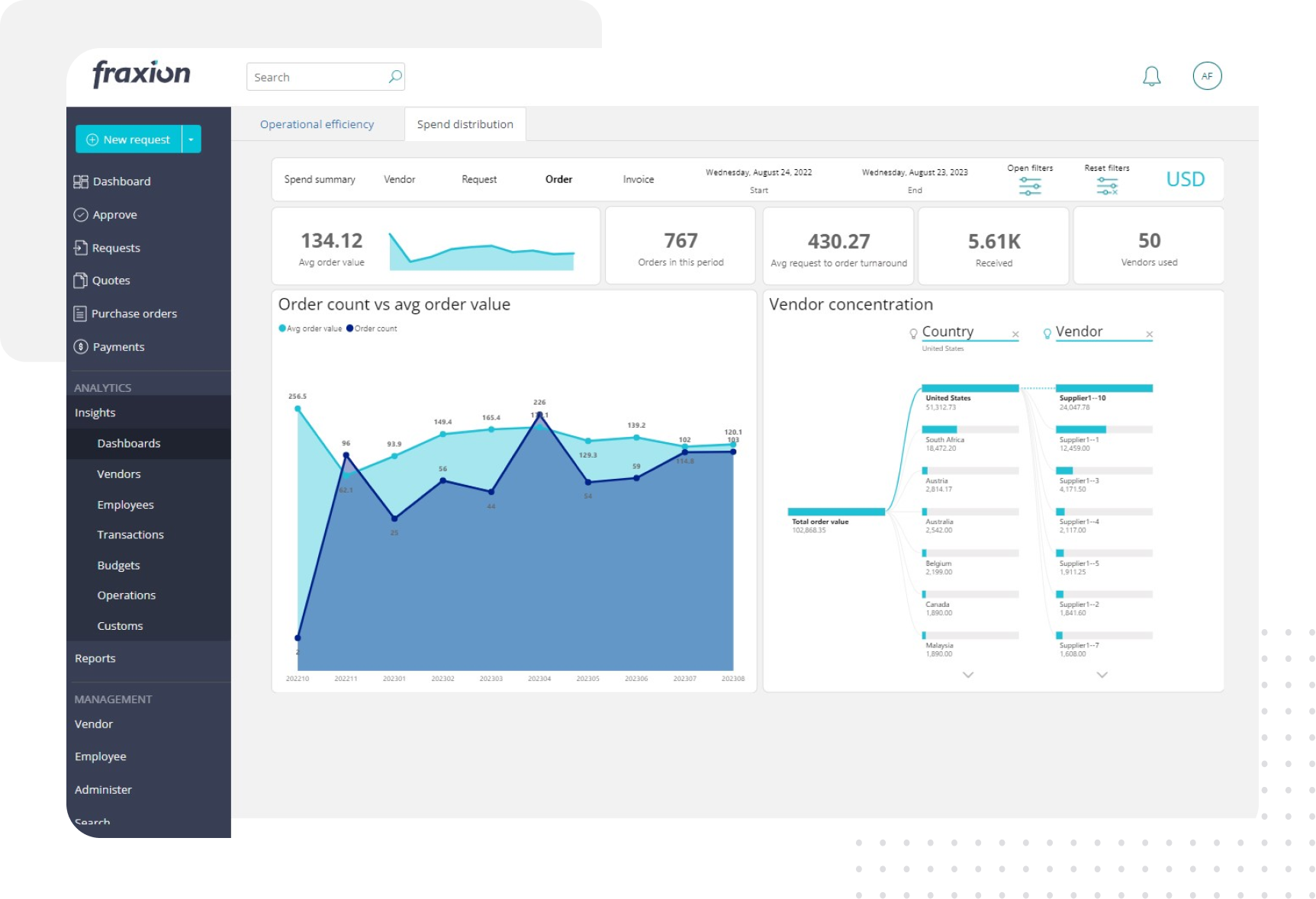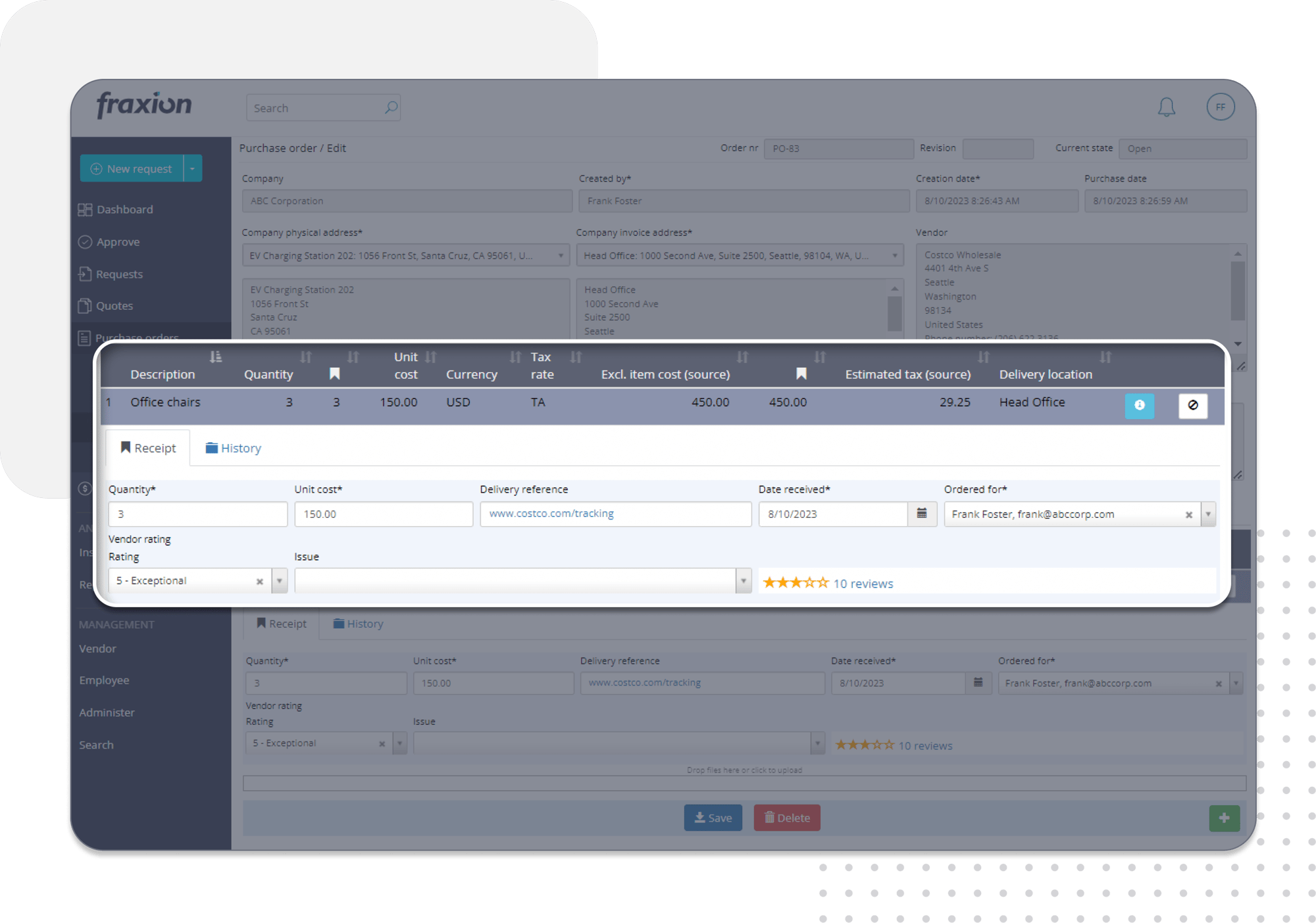 Easy receiving and vendor ratings
Efficient procurement doesn't end with order placement; it's always good practice to verify that goods received match the PO. Fraxion's purchase order software streamlines this process, allowing you to accurately track delivery quantities and rate vendor performance.
Generate electronic receipts for goods or services against open purchase orders
Effortlessly record the number of items delivered, the delivery date, unit costs, and add any relevant shipping or vendor tracking links.
Automatically verify received items against the original order with exception tracking alerts.
Centralize receipts for streamlined record-keeping and audits.
Evaluate and rate vendor performance for informed decision-making.

Top-rated purchase order software
See how users rate Fraxion's purchase order software for functionality, ease of use, support, and value for money.
Procurement
Purchasing
Spend management
---
Highly recommended for simplicity, approval management and faster processes

"We're able to keep our costs down and have the peace of mind that requests are getting the right approvals. Auditing has been smoother since implementing Fraxion. We get great support from the consultants as well. We're really happy with the system and get a good return on investment."

Information Technology
Kelly C.

Fraxion curtails unauthorized spend

"All items need to be fully approved in Fraxion in order for the purchase order to be generated. We will only make payment if there is a PO for the relevant supplier invoice. This has reduced the amount of unauthorized spend in the business."

Group Financial Accountant
Lauren R.
FAQs
Learn more about purchase order software and its benefits! Do you have any other questions?
Why deploy purchase order software?
Companies of all sizes implement purchase order software to gain easier, faster, digital processes for creating, managing, and tracking purchase orders, and submitting formal requests to vendors for goods or services.

Purchase order software can streamline procurement processes, improve accuracy, reduce costs, enhance compliance, and provide better visibility into spending.


What are the key benefits of an automated PO process?
With procurement software, you gain:
Efficiency: Streamlined procurement processes, time savings and reduced manual effort.
Accuracy: Improved accuracy in order creation and tracking.
Cost control: Better control over spending and budget adherence.
Compliance: Enhanced compliance and risk management.
Visibility: Real-time visibility into spending and order status.
Vendor relationships: Improved relationships with vendors.
Reporting: Access to data and analytics for better decision-making.
Savings: Cost savings through optimized, approved purchasing and PO consolidation.
Can purchase order software integrate with other business systems?
Yes, Fraxion's purchase order software enables integration capabilities to connect with ERP and accounting systems as well as e-commerce sites.
Start saving time and reducing costs with purchase order software
Get in touch to see Fraxion's user-friendly solution in action.