CATALOG
eProcurement
simplified
Get quick access to approved products from contracted vendors. Fraxion's internal Catalog hosting enables a seamless, compliant purchasing process.
CATALOG
Leverage your buying power
Purchasing random items and volumes from a range of vendors leads to missed saving opportunities. A lack of control over vendor onboarding and pricing, coupled with limited visibility, inhibits your ability to negotiate better deals.
Our solution? Internal Catalogs. They empower businesses to secure favorable prices, streamline procurement, and optimize value. Centralized and pre-approved, these product catalogs enhance efficiency, saving time and effort in the procurement process.
Maximize your savings potential with strategic control over your purchases.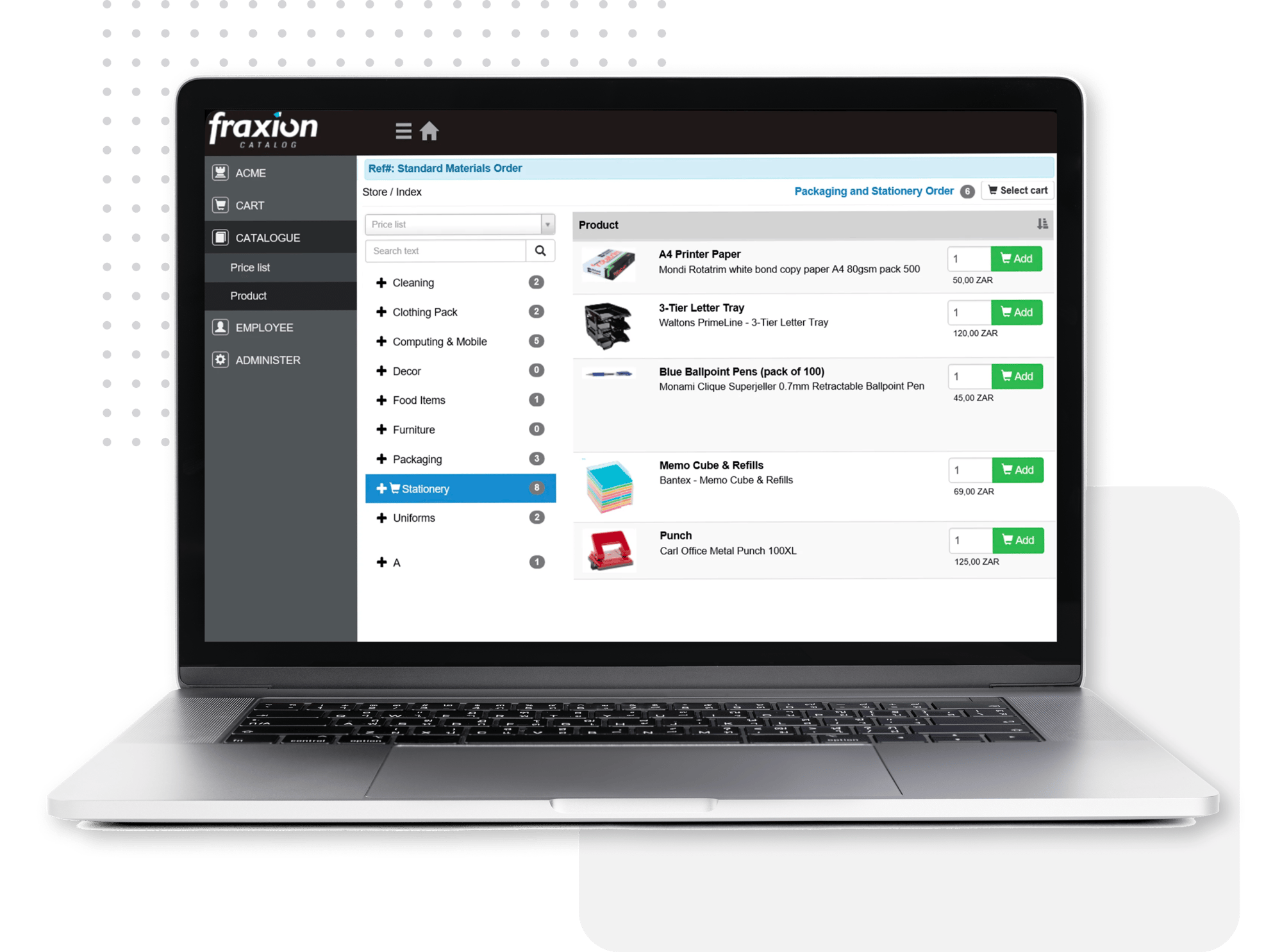 CATALOG BENEFITS
With Fraxion, all Catalog purchases are tracked, approved, policy compliant, and on budget.

Process efficiency
Customize carts or price lists by project, event, department, or any category that suits your needs. Utilize carts as templates with master product lists for quick and efficient repeat purchases.

Time savings
Quickly find and select products from a centralized Catalog, eliminating the need for extensive searching. Save valuable time and streamline your purchasing processes effortlessly.

Policy compliance
Each Catalog purchase request undergoes policy and budget reviews before approval and PO creation, mitigating risks in your purchasing processes.

Vendor management
Set up and maintain approved products and vendor Catalogs with ease. Channel all spend to vendors that offer the best value and foster long-term relationships.
Highly recommended for simplicity, approval management and faster processes

"We're able to keep our costs down and have the peace of mind that requests are getting the right approvals. Auditing has been smoother since implementing Fraxion. We get great support from the consultants as well. We're really happy with the system and get a good return on investment."

Information Technology
Kelly C.

Fraxion curtails unauthorized spend

"All items need to be fully approved on Fraxion in order for the purchase order to be generated. We will only make payment if there is a PO for the relevant supplier invoice. This has reduced the amount of unauthorized spend in the business."

Group Financial Accountant
Lauren R.

Excellent requisition solution

"This software has been a huge improvement over our previous system and has greatly enhanced the efficiency of our process. It is easy to use for our Accounting department and end users. We looked at multiple other products but chose Fraxion because it had the strongest requisition ability."

Controller
Steve R.
See the easy internal Catalog purchasing process in action
Get in touch to discuss your business needs and arrange a customized demo.