CATALOG
eProcurement
simplified
Get quick access to approved products with contracted suppliers, leverage discounted prices and simplify purchasing processes
Leverage your buying power
Purchasing random item volumes from a range of vendors, with no control over supplier take-on or pricing, results in the loss of millions of dollars for businesses each year. With no visibility or accurate reporting capabilities for quantities or line items, you're ill-equipped to negotiate lower prices for your business. Widespread office locations and disparate suppliers further complicate purchasing and reduce your savings potential. Having no controls or purchasing processes in place can significantly impact your bottom line.
Now you can streamline procurement processes, simplify repeat purchases and fixed ordering from approved suppliers. Analyze spend with your suppliers and negotiate early settlement rates and bulk discounts.

Supplier management
Manage supplier take-on and channel all spend to suppliers that offer the best value. Set up and maintain approved supplier catalogs with ease.
Catalog purchasing
Administrators upload product images from existing supplier catalogs - users enjoy a simple online shopping experience. Shop and review product details and variations with ease. Catalog purchasing enables granular reporting functionality – leverage your data to negotiate lower prices.

Streamlined processes
Set up carts or price lists by project, event, department or any category that works for you. Carts can be used as templates - include master product lists for repeat purchases with the option to adjust items and quantities as required.
Manage risk
Limit once-off purchases that diminish volume discounts. All requests are routed for review and authorization prior to purchase order approval, taking the risk out of your purchasing processes.
Save time and procure smarter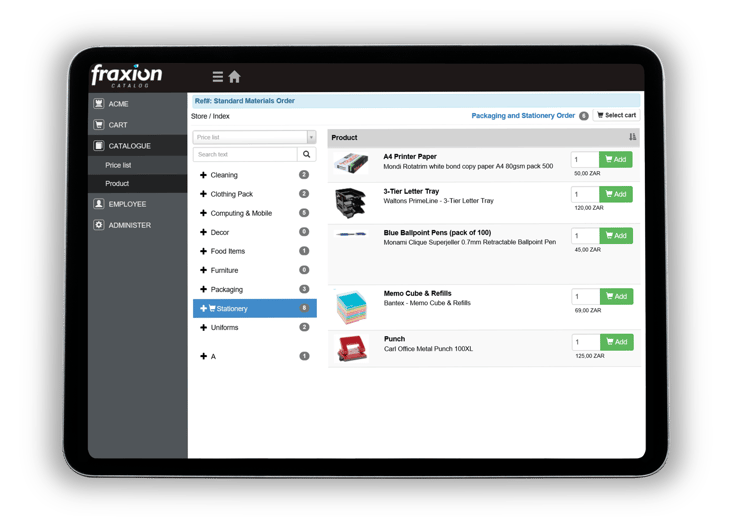 Easy to use and a good ROI
"Fraxion is really easy to use, it's like when somebody picks up an iPhone they can start using it immediately; it's so intuitive. We definitely get a good return on investment, that's for sure."
Accountable approvals
"Fraxion has streamlined our purchasing and procurement process tremendously. And it definitely has alleviated the need for our buyer to do so much manual work. We have better accountability in tracking approvals."