PUNCHOUT
Optimize eProcurement

with PunchOut catalog software
Shop millions of products within Fraxion's eProcurement software with PunchOut catalog integration.
Centralize and streamline
purchasing
The process of manually purchasing goods from a supplier's catalog can be time-consuming. If your eProcurement software doesn't support internal catalogs, you might find yourself logging in to an online catalog several times, obtaining quotes and gaining approval before a purchase order can be generated and manually sent to a supplier. Even with an in-house catalog connected to your procurement system, the catalog may not reflect accurate pricing or stock availability, leading to additional emails and phone call enquiries.

Wouldn't it be great if you could navigate from your purchase request directly to a supplier's online catalog in real time, add items to your cart, and have those items reflect in your purchase request as soon as you check out? With a PunchOut catalog software integration, you can do exactly that!
What is PunchOut catalog software? It's a solution that enables you to purchase from a supplier's website from within a buyer's eProcurement software application.
Benefits to your business

No maintenance
Catalogs are maintained by PunchOut vendors to save you time and money. View real-time changes to item availability, current discounts, related shipping costs and pricing.
Precise product info
Catalogs are maintained by PunchOut suppliers, and buyers within Fraxion can take advantage of more accurate item details and real-time inventory.

eCommerce experience
Access and shop on supplier websites with PunchOut catalog software integration. Enjoy an easy and familiar online shopping experience within Fraxion's eProcurement interface.

Increased productivity
PunchOut enables more efficient order processing, through online automation that saves time and streamlines the purchasing cycle.

Supply chain efficiency
Gain integrated access to millions of products. Simplify sourcing and eliminate the time and effort that would be spent browsing numerous supplier sites.

Spend control
Simplify purchasing processes without losing financial control. Eliminate rogue spending by leveraging established purchase requisitioning and approval workflows in Fraxion.

Convenience
Browse catalogs, shop, checkout and take advantage of fast, convenient fulfillment and shipping processes.

Policy control
Ensure that all PunchOut purchases are tracked, in budget, and procurement policy compliant.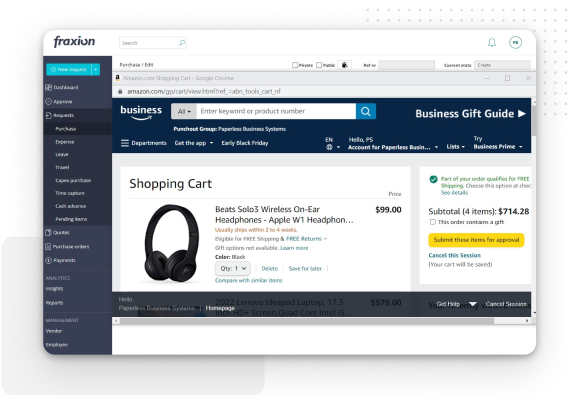 PunchOut online in 10 easy steps:
Create a purchase request, then click the PunchOut button.
Select a PunchOut supplier to buy from.
Add items to your cart, then checkout.
Items are automatically added to your purchase request.
Update the required fields in your purchase request, such as delivery address and approval flow.
Submit for approval.
Once approved, a purchase order is created in Fraxion.
The buyer submits the purchase order electronically to the supplier.
Once the purchase order is accepted by the PunchOut supplier, the order is considered as placed, and the invoice can be captured in Fraxion.
The order can be viewed in open purchase orders and receipts can be created against it, once the items have been delivered.
Faster purchasing processes and complete visibility
"Fraxion allows companies to accurately and efficiently expedite any and all purchases. Companies automate routing and approvals, establish dollar limits, and more. All with a complete visibility and a complete audit trail to record accountability. With Fraxion, we just enter the info in the system, even from remote locations. Everything goes through the whole approval process automatically. Most orders only take one to two minutes to complete."
Accountability and process efficiency
"Fraxion has streamlined our purchasing and procurement process tremendously. And it definitely has alleviated the need for our buyer to do so much manual work. We have better accountability in tracking approvals."