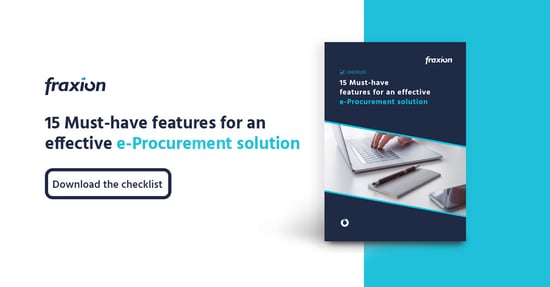 E-procurement software was initially created to satisfy International Business Machines' (IBM) need to simplify their complex procurement process way back in 2000. Fast forward to today, and a myriad of solutions are readily available. But what makes for a good solution, and what e-procurement software features should you be on the lookout for when selecting your solution?
Best-in-class e-procurement platforms give you 100% visibility, internal controls and process efficiency so you have the tools to eliminate rogue spending and increase your organization's bottom line.
However, to reap these benefits, the e-procurement solution you're investing in must satisfy your organization's critical needs. Its features and deployment methods should support variables like the size of your business, your industry type, and your existing technology stack.
12 Must-Have Features of Top e-Procurement Software:
1. Mobile and easy-to-use interface
The importance of an easy-to-use e-procurement interface cannot be overstated. The time and money spent in training or acclimating your team to an overly-complicated platform can never be recovered.
Your e-procurement system should align with the principle of less is more. A simplified software stack means faster induction at all levels and a more fluid transition that doesn't hinder the daily running of your organization.
As a rule of thumb, aim for an e-procurement software solution that requires minimal end-user training. E-procurement software should be easy to use, as it's the number one factor in driving successful user adoption, which is vital to the success of every e-procurement technology investment. Opt for a platform that offers mobility, and simplicity, and integrates seamlessly with your current operations.
2. Communication
Communication is essential for all stakeholders to know what's happening in the procurement process. Your e-procurement software should be accessible via a mobile app and accelerate the procure-to-pay process with
Automated workflows
Compliance checks
Multi-level approval routing
Collaboration tools
With these e-procurement software features, staff receive email notifications and in-app alerts on their mobile phones so they can review and fast-track approvals no matter where they are.
Choose transparent e-procurement software that alerts stakeholders of transactional activities. An effective e-procurement software solution offers purchasing teams, managers, and all users visibility according to their role and authorization level so they're empowered to make informed spending decisions.
The entire e-procurement process should be simple, centralized, auditable, and backed by competent customer support.
3. Supplier management
E-procurement software features should offer supplier onboarding functionality to ensure that purchasing only occurs with approved suppliers. Drive spend under management by purchasing from contracted suppliers that offer the best value. Use e-procurement software to increase your purchasing power by leveraging your data and negotiating better terms with volume discounts and early settlement agreements.
4. Auditability and risk management
Effective e-procurement software improves auditability. Be sure to source an e-procurement software solution that offers audit trails that detail transactional and user activity, with the date and time stamps. This transparency promotes accountability, a powerful driver of change in spending behavior.
You can also mitigate transactional risks by deploying e-procurement software that quantifies budget impact and risk levels before any costs are incurred. This e-procurement software feature provides valuable insight that enables proactive spend management.
5. Budget insight and control
Budget visibility empowers users to make informed purchasing decisions. To facilitate this visibility, e-procurement software should provide authorized staff with access to real-time data and the ability to report on budgets vs. actuals.
Your chosen e-procurement tool should drive budget control with the ability to track all spend and projects against budgets, with dashboard insights into available and committed budgets.
6. Policy compliance
Protect working capital by configuring your spending policies in your e-procurement platform. Your solution should actively manage policy compliance to guide employee spending behavior, enhance auditability, and provide the internal controls you need to maintain profitability.
7. Time-saving automation
Cornerstones of any e-procurement software - efficiency and time-to-value, driven by automation. E-procurement software features should incorporate smart automation to
Improve accuracy
Reduce human error
Free-up valuable time to focus on more strategic initiatives
Accelerate procurement cycle times
On top of all these benefits, automated e-procurement software features also reduce the burden on your AP team and empower all users to be more efficient, accountable and informed in their decision-making.
8. Approval workflows
Configuring workflows shouldn't require any additional time or money. Approval workflows should be automated, with multi-level escalation and no manual intervention from the end user. Your e-procurement workflows must supply approvers with alerts and email notifications to prompt action and flag potential risks.
Top e-procurement software solutions enable escalating multi-level approvals; these automated workflows drastically reduce approval cycle times, mitigate risk and save your organization time and money.
9. Vendor PunchOut & internal catalogs
Streamline business purchasing and gain access to business-only pricing and volume discounts with vendor catalog integrations. For instance, by deploying e-procurement software that offers the likes of a PunchOut catalog integration, your staff can access online marketplaces with thousands of products from approved suppliers within the e-procurement interface. This catalog integration is supported by your e-procurement software's approval workflows and electronic purchase order capabilities.
The result: fast, secure and familiar online shopping experiences with automated spend controls, and a streamlined strategy for channelling spend to contracted suppliers.
10. Visibility and business intelligence
A key objective of e-procurement deployments is to gain visibility of expenditure by spend category. The ability to analyze and report on historical and real-time data is key to understanding how your business spends money and where to cut costs. This makes business intelligence a key e-procurement software feature for you to pursue in your solution.
11. Seamless integrations
Your e-procurement software of choice should offer integrations with financial systems, ensuring accuracy and process efficiency. Choose e-procurement software that complements and extends cloud or on-premise ERP or accounting solutions, for end-to-end procure-to-pay efficiency.
12. Fast, flexible deployment
The implementation of some procurement platforms can take numerous months or even years to deploy successfully. Avoid this slow time-to-value and deployment by choosing robust yet agile cloud e-procurement software.
Cloud e-procurement solutions are scalable, cost-effective and easy to maintain. You'll benefit from regular software updates, cloud security, disaster recovery and remote deployment options.
Choose e-procurement software with all the features you need
Ultimately, your solution should reduce costs through the collective proficiency of all the e-procurement software features listed above. Identify saving opportunities, maintain budgets, purchase at the lowest price, and eliminate rogue or maverick spending.
If your current system is failing you, it may be time to consider options that tick all these boxes and provide an efficient solution to your business-specific procurement needs.
Future-proofing your business includes implementing procurement processes that last you well beyond the trappings of tech upgrades. Sustainable e-procurement software features facilitate digital transformation. This enables integration with your tech stack and keeps up with the rapid changes in emerging technologies, including artificial intelligence (AI).
Fortunately, cloud e-procurement software solutions like Fraxion provide the features above and more, along with the necessary visibility and robust framework for achieving business spend management success.
Interested in seeing how e-procurement software can support your business? Book a free custom demo and discover how Fraxion powers proactive spend management.