We're excited to announce that Fraxion has been recognized as a FrontRunner in the spend management software category on Software Advice, a Gartner Digital Markets platform.
What is a FrontRunner?
Software Advice's FrontRunners report analyzes independent user ratings for software solutions. In order to be considered, products must excel in two main areas: usability and customer satisfaction. From there, products are compared and scored side-by-side – the top-performing software products in each category are recognized as FrontRunners.
Businesses can use FrontRunners to make more informed software decisions. Scores are based largely on reviews from real software users. For more detailed information on the scoring methodology, click here.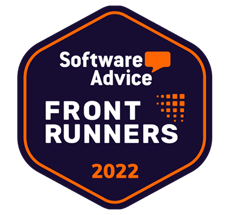 What is Software Advice?
Software Advice is a trusted, objective resource for software buyers. They publish a unique mix of highly relevant content—including software reviews, original research and analyses, expert opinions, product comparisons and more. They educate buyers about available solutions and provide actionable insights and advice to help solve their most pressing pain points and achieve their business objectives.
Their mission is to help buyers make better software purchasing decisions and confidently select the best software for their business needs.
Fraxion's objectives
We are honored to be recognized as a FrontRunner in the spend management software category and continue to develop the user experience and features that help our customers to succeed. We're committed to engineering solutions that empower finance teams to manage the procurement function by establishing easy, informed, and accountable spending processes company-wide. If you would like to learn more about Fraxion or see our top-rated features in action, book a demo now.
Disclaimer: The Software Advice report constitutes the subjective opinions of individual end-user reviews, ratings, and data applied against a documented methodology; they neither represent the views of, nor constitute an endorsement by, Software Advice or its affiliates.