We are delighted to announce that Fraxion has been recognized in the Capterra Shortlist for Spend Management software 2023. This acknowledgment is due to the ratings and reviews submitted by our valued customers and the unwavering dedication of our team in developing, deploying, and supporting Fraxion.
We express our gratitude to our customers for their public testimonials on platforms such as Capterra. Not only do these testimonials assist companies in researching potential software options, but they provide us with invaluable feedback that helps us to continually enhance our offerings.
What is the Capterra Shortlist for Spend Management Software?
Capterra's highly regarded annual Capterra Shortlist, formerly known as the Capterra Top 20, is a trusted evaluation that combines user reviews and online search data to identify the leading players in various software categories, including spend management. Presented in the form of a comprehensive chart, the shortlist showcases the top-performing products based on a careful blend of user ratings and popularity, providing a reliable assessment of the market leaders in the industry.
How the Shortlist was created:
Assessment: Capterra analyzed all 255 products in the Spend Management Software category.
Selection: Eliminated products that didn't meet their requirements for functionality and reviews.
Comparison: The highest-rated and most popular products are plotted on a grid as indicators of customer satisfaction, popularity, and performance.
For more insight into the scoring methodology, click here.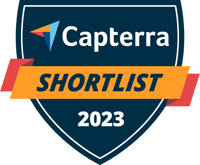 What is Capterra?
Capterra, a Gartner Digital Markets site, offers a valuable free online service that connects organizations with the right software solutions. With an extensive database of over 2 million verified reviews from genuine buyers and a comprehensive coverage of 50,000+ products across 900+ software categories, Capterra leverages its vast data and deep understanding to match companies with software that precisely meets their unique requirements. Through their trusted rankings, reports, infographics, and lists they strive to empower businesses to make informed decisions and find the ideal solution for their needs.
Fraxion among the highest-rated Spend Management Software solutions
We are dedicated to providing exceptional value to our customers and proud to be recognized in Capterra's Shortlist once again - this time from over 250 products in the spend management software category. We're committed to continuous improvement, ensuring that our users have access to innovative features and services that simplify their procurement processes and empower them to make informed spending decisions, wherever they are. Our focus on ease of use, transparency, and policy compliance sets us apart, enabling finance teams to proactively manage company-wide spending with confidence.
If you'd like to find out more about Fraxion's solutions and how they can help your business, book your customized spend management demo today.
Disclaimer: The Capterra Shortlist report constitutes the subjective opinions of individual end-user reviews, ratings, and data applied against a documented methodology; they neither represent the views of, nor constitute an endorsement by, Capterra or its affiliates.