EBOOK
Strategizing spend management

in a crisis



In the event of a global health or financial crisis, it's critical to focus on strengthening your business, not only to survive an economic downturn, but to be more resilient and tactical when we emerge from the crisis.
In this guide we focus on technology-based spend management strategies to empower your procurement and finance teams to minimize the impact of a crisis on operations, and your bottom line.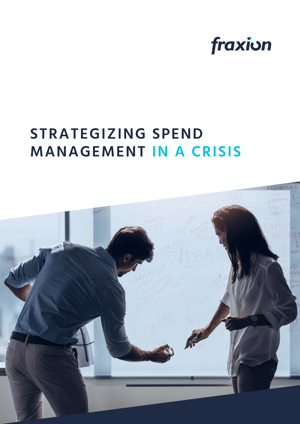 In this free guide you will learn:

How deploying or utilizing your existing cloud technology to analyze spend and implement cost control strategies can help you to mitigate risk and streamline business continuity.

How to reduce costs, achieve sustainable savings and gain the critical spend insight you need to make the right decisions
.
Download your guide today by filling out the form on this page.
Take action that will enable the best business outcomes
The decisions you make today could be the defining factors between you and your competitors tomorrow.
If you've been delaying the digital transformation process, now is the time to accelerate it.
Adopt a proactive rather than reactive spend management strategy to ensure you're always prepared and have the systems in place to maintain business operations and protect working capital.
For more spend management advice, download your guide today by filling out the form above.