FRAXION
Top-rated

purchase requisition

software
We help finance teams establish easy, mobile purchase requisition processes and robust approval workflows that keep company-wide spending under control, and on budget.
Reduce your operational costs by 15 - 20%
with automated purchasing workflows and proactive spend controls
Replace manual, paper, and spreadsheet-based inefficiencies and put a stop to purchasing activities that are untracked, unauthorized, and non-compliant.
Connect your team, processes, and policies across remote locations and operations. Guide purchasing behavior and keep spending under control.
Eliminate slow processes, approval bottlenecks, overspending, fraud, and the reactive processes that follow when out-of-policy purchasing takes place.
Purchase requisitioning and approvals have never been easier.
Simplify your requisition and
approval process and save
Key features you need to ensure pre-approval and auditability of spend

Automate workflows and
centralize data
Easy requests on any device and all your purchasing records in one central place.

Customize approval workflows


Route requests via simple to multi-level approval workflows with efficient cost allocations.

Control budgets


Make informed decisions - review
real-time budgets at decision points.



Approve on-the-go


Get notified and approve with confidence,
on any device, wherever you are.

Access spend insights and
audit trails
Instant notifications and spend insights
at each purchasing stage, reporting
power, and detailed transaction logs.

Integrate your financial
system
Seamlessly connect your ERP or
accounting solution for AP accuracy
and efficiency.
Say goodbye to wasteful, unauthorized spending
Effective spend management begins with a strong purchase requisition process. Simplify how your team submits requisitions with all the data needed for easy verification and approval.
Attach supporting documents, select from approved suppliers, or submit new suppliers for approval, it's easy, centralized, and under control.
With Fraxion, all purchases occur with approved suppliers.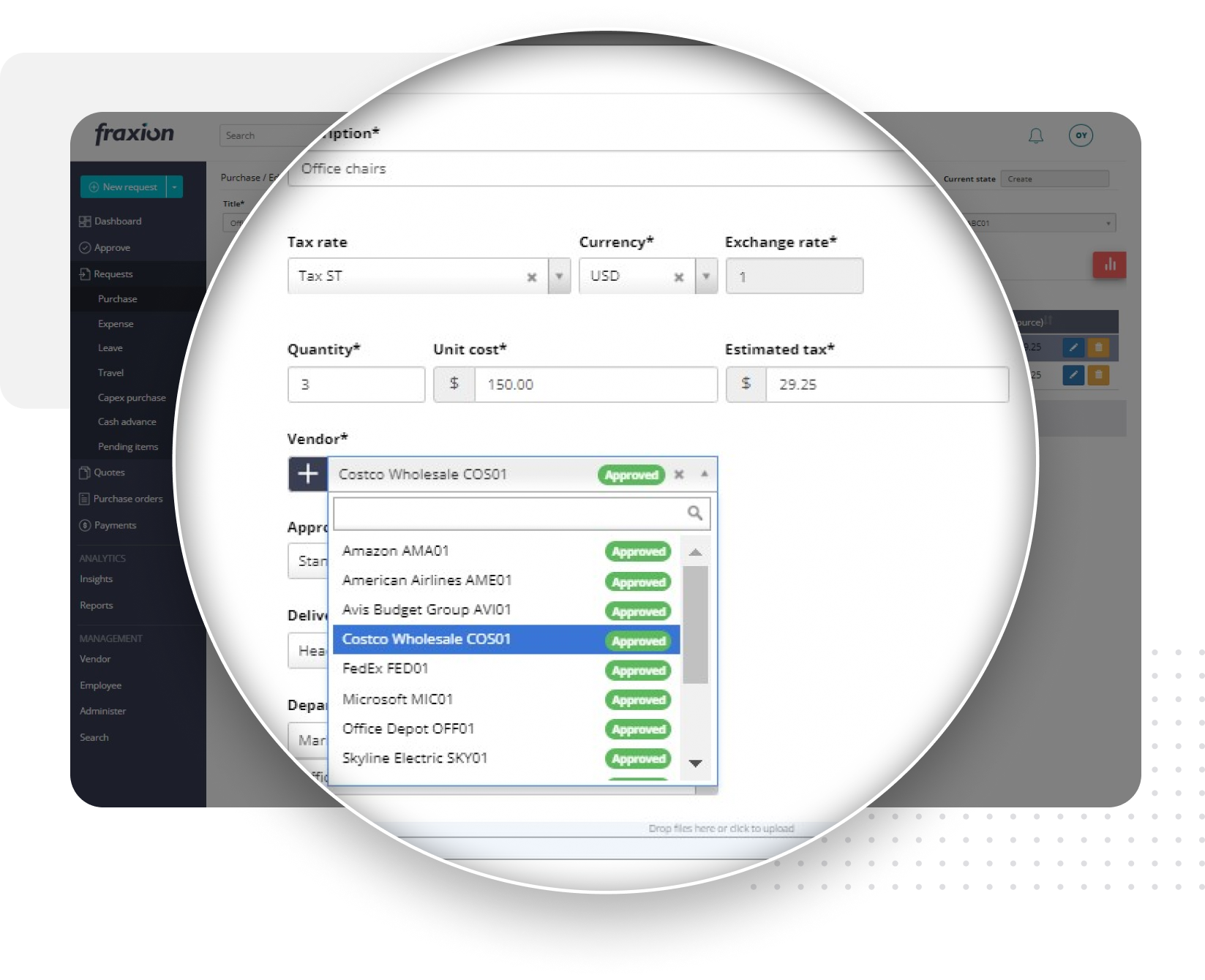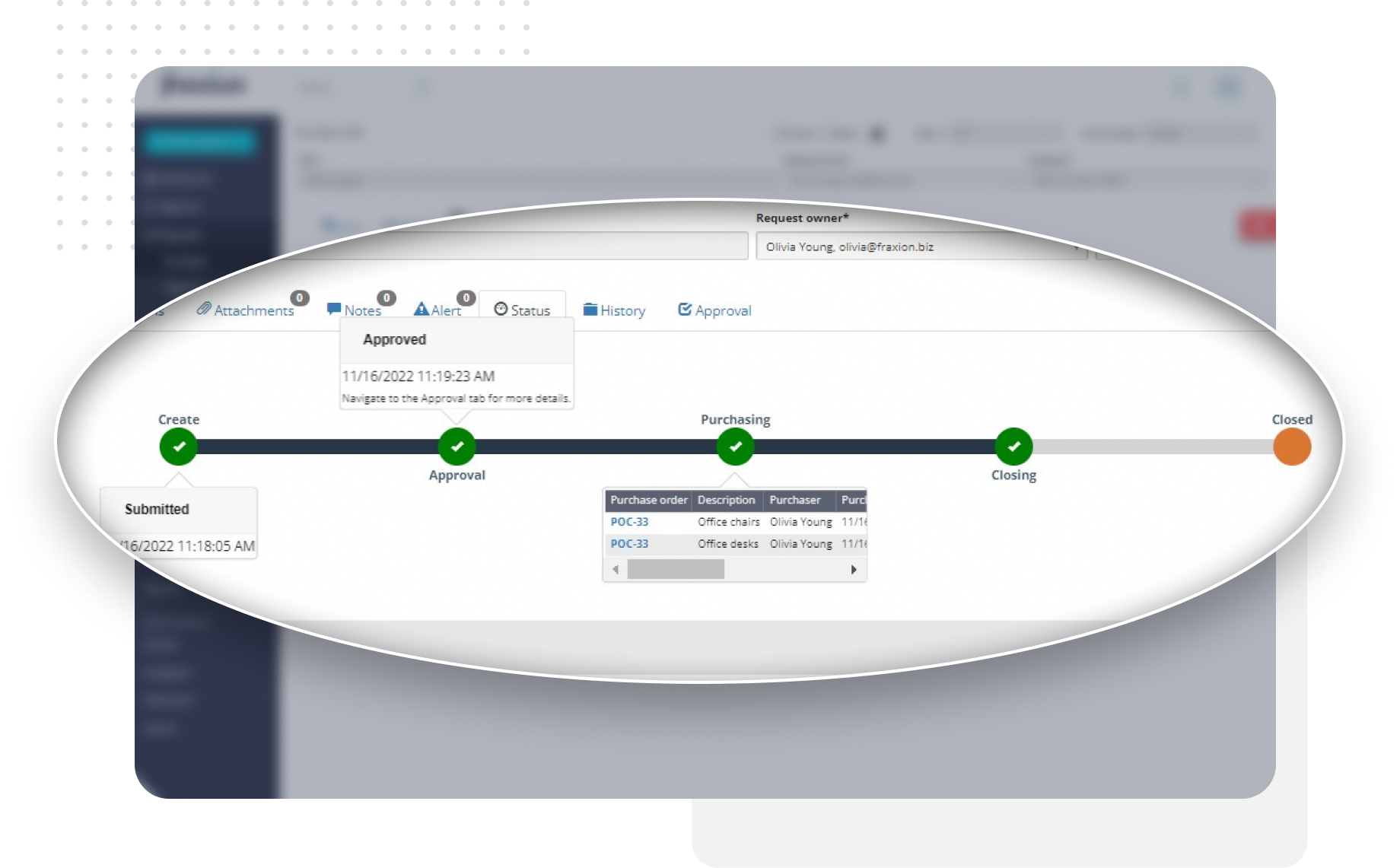 Track the status of each purchase, at any stage
Rely on purchase requisition software to automate your requisition and
approval process and make it easy for your team to stay informed, accountable, and compliant.
With Fraxion, business spend is always tracked, approved, policy compliant and budget.
What our customers say
Here's why Fraxion's purchase requisition software is top-rated by users
"Fraxion has become the place our people know to find financial transactions. Our departments and programs enjoy the reduced time to process requests and the overall accountability. We cannot underscore the spend control enough.
We needed a faster and more efficient way to manage spending. The ability to instantly research, see what's in process, and drill down into the details from wherever we are has made Fraxion invaluable."
Government Administration
Niel M, Finance Director
Verified review
"Highly recommended for simplicity, approval management and faster processes. Fraxion has saved us so much time in processing and we've replaced manual tasks and spreadsheets. We're able to keep our costs down and have the peace of mind that requests are getting the right approvals. Auditing has been smoother since implementing Fraxion. We get great support from the consultants as well. We're really happy with the system and get a good return on investment."
Information Technology
Kelly C, Partner

Turn your procurement process into a savings generator and efficiency driver with Fraxion