RESOURCES
Spend management for
non-profits & not-for-profits
The biggest challenges facing NPOs and NFPs today: Achieving long-term sustainability and funding.
How are you managing donor funds? How transparent are your spending processes?
Download the guide for ways to simplify and streamline the way your organization tracks, manages, and reports on operating expenditure.
Find out more in this spend management guide.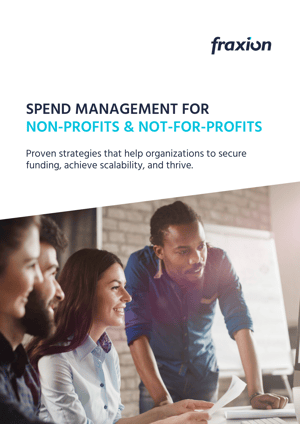 In this guide:
How spend management technology can assist NPOs and NFPs to secure repeat funding, improve sustainability and program efficiency with:

Operating expense control

Stewardship of funds

Tracking spend against budgets, funds, grants, and donors

Transparency and reporting power

Compliance and auditability

Mobility and ease of use

Automation
Download your eBook today by filling out the form on this page.
78% of NPOs and NFPs say their funders are demanding
more visibility of spend and impact than before
To be effective in achieving core goals and securing repeat funding, your organization needs to have structures in place that enable you to be more efficient, cost-conscious, transparent, and compliant.
Download your guide today by filling out the form above.
.