AP WORKFLOW
Unlock
AP efficiency
Streamline purchasing and vendor management and save time in your accounts payable process with invoice approval and 3-way matching.
Proactive vs reactive
spend management
Delayed or lost invoices cost organizations thousands of dollars in missed payment discounts and late payment penalties. Manual and paper-based processes are error-prone and labor intensive with high cycle times. How does a modern accounts payable professional manage it all? Simply put, most don't.
Most of the accounts payable professionals we've worked with had to make do with overly complicated manual processes and became purely reactionary over the years. Some had to force the requirement of paper-based invoices to make sure they can be managed in one inbox. Others would spend most of their week using their inbox or spreadsheets as a sorting mechanism to ensure everything was tracked. Of course, in each instance, invoices would invariably go missing.
Today, they share in the efficiency-based savings that spend management solutions enable for their procurement peers. Automate the management of AP invoices from vendors, streamline processing and remove paper-based systems. The time savings alone will help recoup wasted hours and help AP get ahead of their workload.

Streamline your accounts payable processes
Automate and streamline purchasing and vendor management and invoice approval to fast-track payments. Simplify 2 or 3-way matching processes.

Reduce risk
Create purchase orders from approved requisitions for internal controls over spending and facilitate invoice matching. Gain visibility of receiving processes, eliminate over payment and duplicate invoices using 3-way matching capabilities.

Go paperless
You get paperless simplicity and your AP department benefits from the savings in time that automation affords.

Boost profitability
Manage supplier take-on processes and channel spend to drive savings with preferred suppliers. Negotiate bulk discounts, and early settlement dates to fully leverage your company's purchasing power.
AP workflow
efficiency
No data recapture required, mitigating risk and ensuring accuracy from requisition-to-purchase order, to invoice.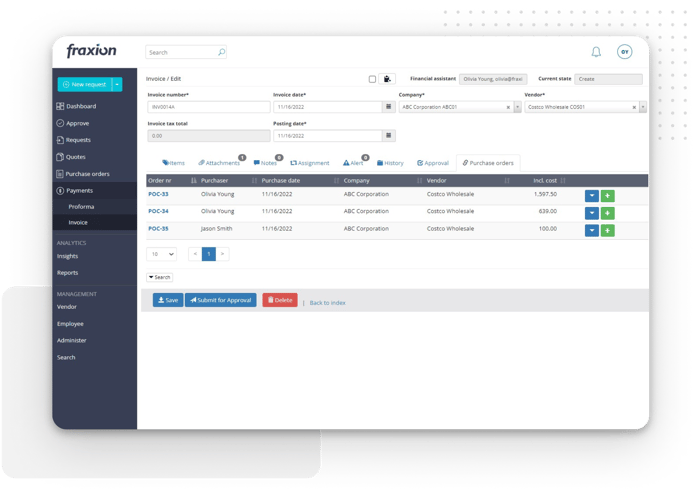 Approved and budget compliant expenditure
"Fraxion allows the business to manage authorization of spend by management and budget owners. Finance is able to obtain reliable information from Fraxion, which is used to update our ledgers and pay suppliers knowing the outputs are approved."
User friendly and minimal training
"Fraxion is very user friendly and it didn't take us long to get used to it. In fact, based on the Fraxion training we received, our finance manager and I trained all our club managers, who took to it very quickly. I would definitely recommend Fraxion to anyone who has a very manual, time-consuming procurement system. You'll really appreciate the user friendliness, the quick learning curve and the features."