Simplifying business purchasing
Fraxion and Amazon Business have collaborated to simplify business purchasing via Punchout and Punch-in.
The business purchasing integrations connect the simplicity and familiarity of Amazon Business' extensive eCommerce platform with the robust requisition-to-purchase order and approval engine, powered by Fraxion's eProcurement software.

Integration benefits
How Punchout and Punch-in can help you realize efficiencies and savings:

Easy catalog browsing and familiar shopping experiences

Automated
requisition-to-PO
efficiency with
multi-level
approval
routing

Ensure that all purchases are within budget and policy compliant

No need to browse multiple vendor catalogs and sites with access to millions of products in one place

Centralize purchasing records to improve AP efficiency and invoice matching

Improve and inform decision making with complete visibility and reporting power

Scale your purchasing process and enable your entire team to purchase easily and accountably with minimal training

Give your team access to accurate product and pricing info and save time with no need for catalog maintenance

Reduce your operational spend by taking advantage of business-only pricing and quantity discounts, when available.

How Punchout works

Gain direct access to Amazon Business while logged into Fraxion's eProcurement system.

Create a purchase request in Fraxion and Punchout to Amazon Business.

Browse catalogs, and shop; your cart items are listed in your purchase request and ready for budget review, policy checks and approval.

Once approved, an electronic purchase order is generated and automatically sent to Amazon Business.

PO accepted, order billed and fulfilled by Amazon Business.

Receive items and match to records in Fraxion.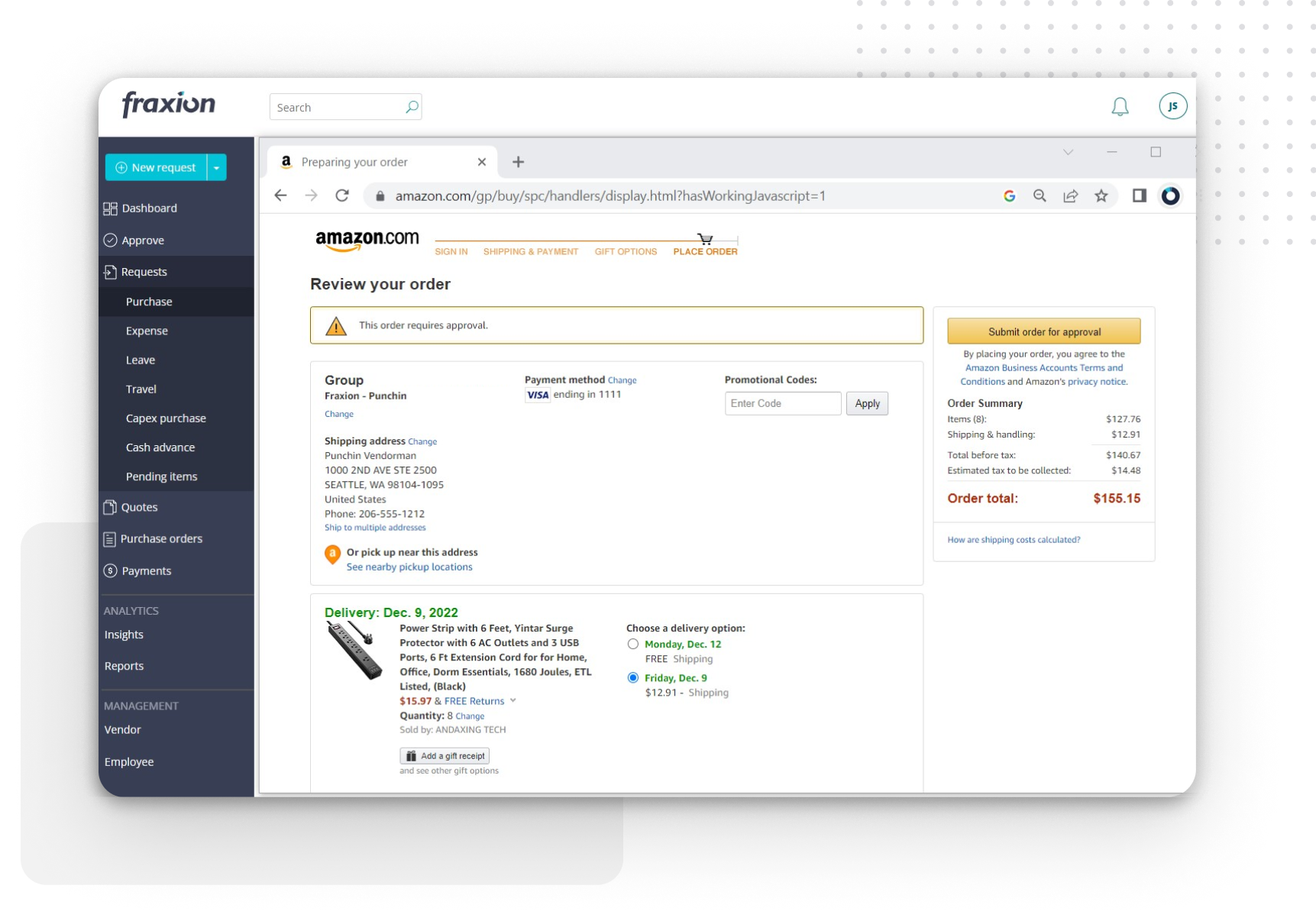 How Punch-in works

Save even more time with Punch-in. Your journey begins in Amazon Business where you can browse catalogs and add items to your cart.

Simply choose Fraxion from your pre-configured Punch-in group, select your shipping and payment options, review your order and submit.

Amazon Business redirects you to Fraxion, where your purchase request is instantly updated with your shopping cart items and ready to submit for approval.

Each request is subject to a budget and policy review and approval process.

Once approved, a purchase order is automatically sent to Amazon Business.

Amazon Business accepts and fulfills the order.

Receive items and match to the request, PO, or invoice in Fraxion.
Improve order accuracy, speed, and spend control
These seamless integrations provide fast, easy, familiar shopping experiences in Amazon Business, while Fraxion's automated purchasing and approval workflow ensures that all spending is tracked, approved, and on budget!
Verified review
Great tool for every day spend management
Overall: Less paperwork in filing cabinets and paperless purchasing has been a wonderful change.
Pros: Our greatest feature has to be Punchout. When we went live with it, everyone really started to enjoy it.
Education Management
Robert S, Purchasing

Fast-track business purchasing without losing financial control with Fraxion and Amazon Business integrations